Avianza takes poultry meat to Dubai: #PoultryFromSpain 

We close our visit to #Dubai with the gastronomic chronicle of a day where the #carnedeaveespañola has been the protagonist thanks to the support of ICEX, the Economic and Commercial Office of the Embassy of Spain in Dubai and #SOPEXA.
The objective of this evening was none other than to highlight the quality of #avesdeespaña and, therefore, the strength of the Spanish #savícola sector to the representatives of the main food and gastronomy companies and organizations in Dubai.
Spanish #poultry, #pavo and #codorniz are synonymous with quality, excellence and versatility, as well as being a healthy and light meat. Attendees, both at lunch at the #Amazon restaurant and dinner at #SaleroDubai, whose theme was "Tapas Night", were able to see this firsthand.
With this action from #Avianza we continue betting on such a demanding and promising market as the #UnitedArabEmirates. The #PoultryFromSpain campaign is progressing satisfactorily and fulfilling the objective of positioning poultry from Spain as a synonym of quality among the Emirati gastronomic sector.
Thanks to the team of Grupo Oblanca, COREN and URGASA GROUP who have accompanied us in this action.
We would also like to thank Andres Salinero Barbolla, Economic and Commercial Counselor of the Embassy of Spain in Dubai and Carmen Olvera García, International Trade and Investment Advisor at the Economic and Commercial Office of the Embassy of Spain in Dubai, for their assistance.
#Megustapoultry#PoultryfromSpain#markets#poultryfromSpain#FoodfromSpain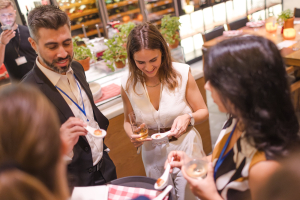 https://avianza.org/wp-content/uploads/2023/10/Tapas_Night_124-min.jpg
1620
1080
Avianza
https://avianza.org/wp-content/uploads/2020/06/logo_b.png
Avianza
2023-10-05 08:21:31
2023-10-05 08:32:46
Avianza takes poultry meat to Dubai: #PoultryFromSpain